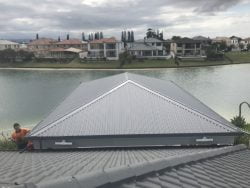 Installing a new metal roof or doing a metal roof replacement can be a complex decision for many homeowners. At CJ Taylor Metal Roofing we aim to make the process of deciding on the type of metal roof to install and the time of year to do it an easy one.
When to install metal roofing on the Gold Coast? The best time of year to install a metal roof on the Gold Coast is during the winter months when there is lower rainfall and the weather is more predictable. A roof replacement or new roof can be installed quickly without any of the delays that could be caused by storms, high winds, rain and hail. 
At CJ Taylor Metal Roofing we always aim for the best and prepare for the worst. Working on a roof in summer presents challenges such as high heat and potential storms. We plan well and always arrive on site prepared for a change in weather conditions. In this way, we are able to complete our roofing jobs in the best possible time and to the best standards, regardless of the time of year.
Why Install a Metal Roof in Winter
When you are making the decision to replace your roof or have a new roof installed on your home you may be concerned about how it will affect your lifestyle. In all truth the impact is minimal, a standard size home generally take around 2-3 days to re-roof. In winter when weather conditions are predictable the installation can be completed in consecutive days, meaning that it takes the least amount of time overall to get the job done.
Summer months are often busy for roofing contractors as people commonly notice leaks or problems with their roof when the weather is bad and then make the decision to do repairs or replace their metal roof. Some roofing contractors will take advantage of this and move through jobs as quickly as possible when there is a lot of work, not always taking the time to do a proper job.
We have fixed many a bad roofing job due to contractors rushing through the process and not taking care, or pride in their work. Winter, or summer we always do our best job, adhering to regulations and best practices. The take home though is that not everyone is as honest and you may find that it's easier to find a quality metal roofing contractor at the right price in the winter months.
It's always good to be proactive, so if you notice that your roof is starting to show some signs of age getting prepared for the wetter summer months in winter is a way to potentially prevent any water damage to the underlying structure of your roof, or further damage to your property that could be caused by a leaky roof. Saving you the trouble and cost of dealing with a larger problem.
What type of Metal Roof to have Installed
Looking at the options in Australia,  Colorbond Metal Roofing and Zincalume Steel Roofing by BlueScope Steel are clear leaders in the industry. This is based on their high quality while also being cost-effective.
Colorbond Metal Roofing is designed for Australia's extreme conditions, from hailstorms to bushfires it's a proven over fifty years to be an outstanding, quality product and that's why it's our choice for many homes on the Gold Coast. There are a wide variety of colours available, currently over twenty, so finding a colour that matches your home becomes easy.
Zincalume Steel Roofing is lightweight and durable, with excellent resistance to corrosion, giving peace of mind to those with seaside buildings in and around the Gold Coast. Great thermal insulation for those hot days and able to be curved into unique designs.
The choice really comes down to your needs and preferences, Colorbond Metal Roofing is most commonly used for residential homes, where Zinclume is often the choice for businesses with large buildings. This is not always the rule and if you would like to find out more about the options for your home, give us a call and we'll be happy to help.