Metal roofs are durable, even when left to the elements and the salty Gold Coast air, they can last the lifetime of a home, all that's required to keep them going is a bit of care now and then.
We have been fitting, repairing and restoring metal roofs on the Gold Coast for many years and can help you decide what is the best course of action for your home. If left too long you may need to replace your roof, but with the occasional checkup, your metal roof can be maintained and last for years to come.
We recommend that you have your metal roof checked every year or two depending on the year's weather conditions. If it was a season with some extreme weather such as high winds and heavy rain its good to check your roof more regularly. Generally, newer roofs will not need to be checked as regularly as older ones, but it's always good to have a general idea of the condition of your roof. This way you can have minor repairs done when necessary and avoid ongoing damage to your metal roof that could make for a larger repair.
The Metal Roof Restoration Process
As with most roofing projects we start with an initial inspection of the roof, assessing any damage and getting an idea of the general condition of the roof. We pride ourselves in offering onsite quotes in 48 hours or less.  Sometimes if the damage to the roof is severe and a replacement will be necessary, but often all that's needed is a few repairs. If the general condition of the roof is poor, but not severely damaged roof restoration is an option. A restoration will ensure that your roof is back in great condition and ready to weather the Gold Coast sun and storms for many years.
The first step of the metal roof restoration process is to pressure clean the roof, removing dirt, old paint and any rusted roofing screws.
Next, we replace the roofing screws and repaint the roof in a two-step process, first with Colorbond primer and then a topcoat designed to endure years of sun and harsh weather.
Lastly, we always inspect and assess our own work ensuring that the job has been completed to a high standard that we can be proud of.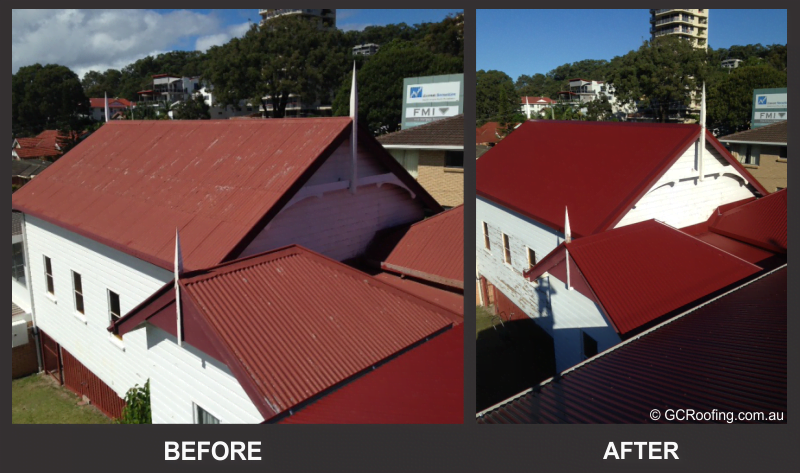 If you would like to have your roof restored or would just like an assessment of the condition of your roof give us a call, or get in touch using the contact form at the bottom of this page.