It may well seem that builders and roofing contractors have gone crazy about Colorbond. Why do they love this roofing material and what's in it for you as a homeowner?
The makers of Colorbond, BlueScope Steel, have become the number one suppliers of steel products to the building industry. They make everything from fencing to roof sheets and contractors love their products because they're durable, relatively reasonably priced and versatile.
BlueScope steel produces two types of roofing: Colorbond, which has a layer of undercoat and a layer of colour baked onto the outside so that it becomes as tough as enamel. They also produce Zincalume roof sheets that have the classic metallic look that most of us associate with metal roofing.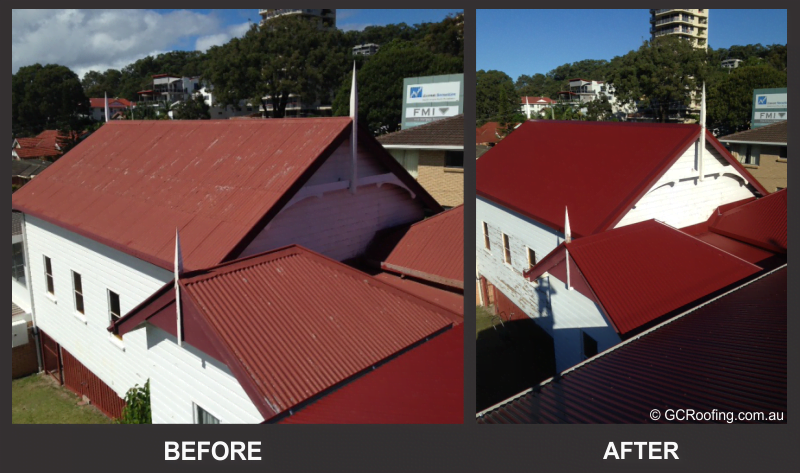 Colorbond is corrosion resistant
It's all in the baked on coating. Colorbond sheeting is coated with pigments containing Magnesium that gives the coating extra staying power even in harsh conditions. As an Australian manufacturing company, BlueScope Steel manufactures it's roofing with Australian conditions in mind.
Reflects sunshine
Obviously, you're going to insulate your house to prevent extreme temperature fluctuations, but the reflective properties of Colorbond roofing ensures that your home won't be baking hot in summer. There's more to roofing than just keeping the rain off!
Durable
Thorough research and exhaustive product testing has led to a roofing product with a manufacturer's warranty against corrosion that's valid for 30 years. The colour coating may not last as long, but you still get a guarantee lasting 20 years – that's a big boost to one's confidence. Old fashioned metal roofs had to be painted every few years, but you can be sure of 20 years of low to no maintenance with a Colorbond roof.
Choice of colours
With 22 colours to choose from, you're sure to find a shade that's going to look good on your home and fit in nicely with your neighbourhood's look. Go for a traditional red or grey roof or be a trifle more daring with an unusual but understated shade of blue. Whether you want to fit in with the Joneses or indulge your taste for something a little bit different, Colorbond offers practical solutions that work in Australian conditions.
Versatile
Have you got a standard pitched roof or do you want to go for something curved and contemporary? Regardless of the design philosophy you're following, Colorbond roofing can be adapted to suit your design preferences. There are some marvelous examples of creative roofing projects that have been completed using Colorbond steel roofing.
Lightweight
Old-fashioned tile roofs are maintenance intensive and they're very, very heavy. You actually need a stronger framework to support a tile roof and you can be sure that all that weight is putting extra strain on the structure. Colorbond presents you with an attractive, lightweight alternative.
It's environment friendly
Anyone who has had to have an asbestos roof disposed of will know what a huge headache it presents. Of course, no-one installs asbestos roofing any more, but it's nice knowing that the roof you're installing is recyclable if and when you decide to go for re-roofing or if a future property owner decides to re-build from scratch.